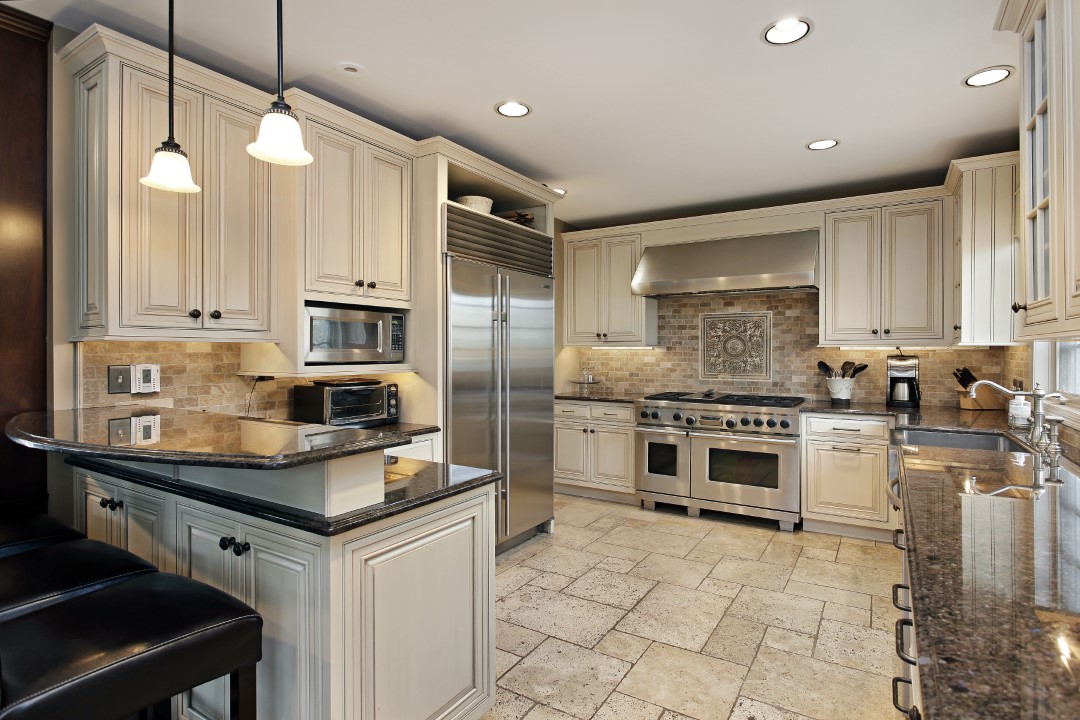 Your kitchen is one of the most important rooms in your Atlanta home. You'll use it every day as you cook your meals, pack lunches for yourself and your loved ones, or simply lounge with a nice drink and better company. Since your kitchen is such a central room in your home and life, shouldn't it be ones of the best-looking and best-functioning rooms, too?
We certainly think so. Of course, not every kitchen is built to that level of quality, and sadly enough, your kitchen may be one such example. Think about it: Do you find yourself less than happy with the look of your kitchen as you go to it every day? Are you dissatisfied with the layout of it? Maybe with you had more cabinet space?
If you find any of the following headaches to be true for you, then stop pouting and start calling At Your Service Restoration & Renovation for a kitchen remodeling. Our kitchen remodeling services will get your kitchen looking and functioning in a way that's best for you while also providing a wealth of other great benefits such as the following:
Less Stress in the Kitchen
You can't help but cook almost every single day to some degree or other. Maybe you're simply boiling an egg. Maybe you're preparing your Thanksgiving dinner. Maybe your cooking falls somewhere in the median between these two extremes. Whatever the difficulty level of your cooking may be, you'll certainly want to make that cooking as stress-free as possible.
The best way to minimize the stress and maximize the enjoyment in all your cooking, large and small, is to get a kitchen remodeling. A kitchen remodeling will allow you to get the kitchen setup that allows the most efficient and streamlined cooking for you. Simply let your Atlanta remodeling contractor know what kitchen setup works best for your cooking needs, and in no time, even the largest meal will feel as simple as a boiled egg.
More Room for Storage
One of the biggest headaches you'll experience as a cook comes when you don't have sufficient storage space in your kitchen. After all, a well-stocked kitchen will all but overflow with all manners of essential cookware, utensils, canned goods, seasonings, and the like. If you don't have ample space to store all of this, your cooking could be something of a balancing act that leaves you feeling frazzled.
Should insufficient kitchen storage be causing you such frustration, you could very well benefit from a kitchen remodeling. Your remodeling contractor can outfit your kitchen with new cabinetry that will provide more than ample space for all of your cookware and the like. Don't let lack of space turn your cooking into a balancing act when, instead, you can always get a kitchen remodeling.
Increase Resale Value
Your kitchen is one of the key rooms in your home, one which you certainly gave a thorough looking-over when you bought your home, and the same will be true for any future buyers of that same home. So, if you're ever thinking of putting your Atlanta home back on the market, you need to make sure your kitchen looks its most appealing.
After all, a kitchen in that kind of condition will be able to catch the eyes and attentions of interested buyers. What's more, a beautiful and well-laid-out kitchen will allow you to command a higher resale value for your home. For these reasons, a kitchen remodeling will prove to be a great investment should you ever decide to sell your home down the road.