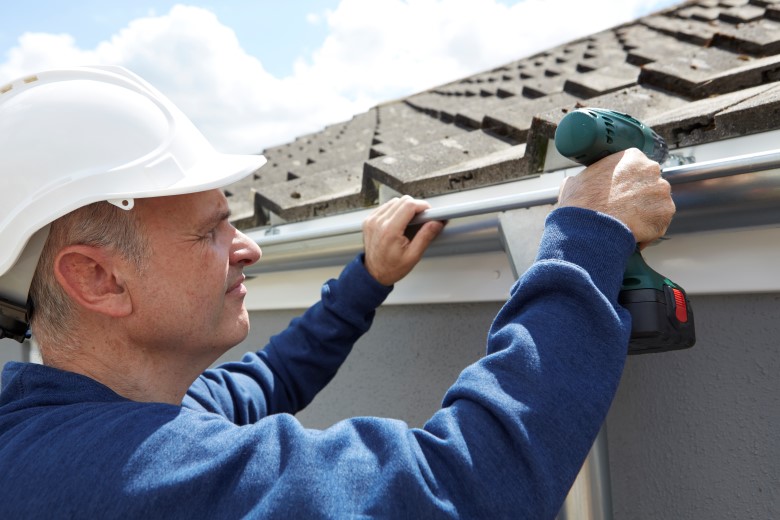 Your Atlanta home's gutters and siding offer necessary protection against water damage and other issues -- but only if these installations are high-quality and dependable. For the highest-quality and most dependable gutter and siding installations, call the expert remodelers, At Your Service Restoration and Renovation.
Our Atlanta remodeling company provides top-notch gutters and siding installation services for homes and businesses in the area. By providing high-quality installations and other exterior remodeling services, we can guarantee that your home will enjoy the best protection from Mother Nature and her damaging elements. Here are a few examples of the kind of protection you'll enjoy with our quality gutters and siding:
Need gutter repairs? Is your home siding in need of service?
Protection from Foundational Cracks thanks to Gutters
You may appreciate your gutters only as you walk onto your porch in a rainstorm without getting soaked by a waterfall of rain pooling from your roof. However, that is not the only instance in which your gutters can prove useful in a rainstorm, nor is it the most important use your gutters provide. That distinction goes to the foundational protection your gutters provide.
After all, by directing rainfall away from your home, your gutters will ensure that water won't pool at its base. Doing so, your gutters will ensure that water can't cause foundational cracks and other such issues. To fully enjoy this foundational protection, you need to get high-quality gutter installation services from our experienced team.
Prevention of Termite Infestations with Quality Siding
Water damage can affect more than just your Atlanta home's foundation. It can also affect every other bit of your home. For instance, if water were to get into your home's interior areas, you could find yourself dealing with wood rot and mold development. Luckily, with quality siding, you can prevent water from entering into your home's interior components.
Of course, that's not the only benefit that siding can provide. It can also keep termites out of your home's interior components, helping you to avoid the costly repairs that can come with a termite infestation. To fully enjoy the protections that siding provides, get a high-quality siding installation by leaving the work to our experienced remodeling pros.
Improved Curb Appeal and Resale Value
At the end of the day, all homeowners will concern themselves with more than just home protection, as important as that quality may be. Rather, they will also concern themselves with maintaining excellent home value. By maintaining your Atlanta home's value, you will be able to get back the money you put into your home when it comes time to sell.
A great way to bolster your home's resale value is to maintain beautiful, high-quality gutters and siding. You can enjoy the highest-quality gutters and siding, call us to handle their installations. With gutters and siding installed by our experienced team, you can enjoy the best resale value and even curb appeal -- another important quality when selling your home.