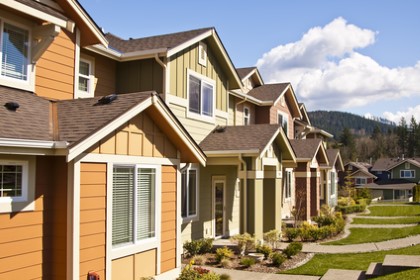 If you're unhappy with the overall look and perhaps even performance of your Atlanta area home or business, then you need to call At Your Service Renovation & Restoration today. Our experienced remodeling company can get your home looking great top to bottom, thanks in large part to the many excellent roofing repairs and other roofing services we offer.
We can also get your home looking its best inside and out thanks to our interior and exterior remodeling services. Whether you're looking to give your kitchen or bathroom a facelift, you can depend on our experienced remodeling pros to get the work done in little time. Our exterior remodeling services will also make you a happy homeowner as we strive to keep your siding, gutters, and all else in tip-top shape.
Your Atlanta home if one of your largest and most important investments -- if not THE largest and most important. So, you need to do all you can to keep your home looking and functioning its absolute best. Luckily for you, getting your home into that kind of shape is as easy as picking up the phone and calling our experienced remodeling contractors today! In no time, you can be enjoying our great services, which include the following:
Quality Roofing Repairs in Atlanta
Your roof goes a long way toward establishing and maintaining a beautiful look for your home. What's more, your roof can also help your home to function in the way that you want it to thanks to the protective and insulating qualities your roof can offer. Of course, your roof won't be able to offer those qualities if it's worn-down or even damaged. In fact, it just might take AWAY from those qualities.
If your roof is in the kind of condition that causes it to take away from the beauty and functionality of your Atlanta home, you need to give our roofing experts a call post-haste. With our roofing repair services, we'll get your roof not only looking but also functioning its very best once more, no matter the kind or extent of damage it might have suffered.
Get Your Atlanta Kitchen Looking New with a Remodeling
The kitchen is one of those rooms that you can't help but use every single day. Maybe you're not exactly a fervent cook or even a casual one -- but surely you have to warm dinner for yourself. At the very least, you must need your kitchen to make your morning cup of coffee and even entertain friends. In any case, your kitchen should look and function like a dream.
If you find that your Atlanta home's kitchen isn't quite up to "dream" standards, then stop dreaming of a kitchen that fits that bill and make your dreams come true. How? Easy: Just give At Your Service Restoration & Renovation a call! With a professional kitchen remodeling, we'll help you enjoy a kitchen that looks beautiful and functions spectacularly so that all of your kitchen work, no matter how big or small, will be dreamlike!
Exterior Services for Your Atlanta Home or Business
Are you thinking of ever putting your home on the market? If so, you'll want to be sure its exterior is in pristine condition so that you can enjoy the highest resale value as well as the best curb appeal. Even if you aren't knocking around the idea of selling your home, you'll still want to maintain your home's exterior condition so that it continues looking its best while remaining protected from the elements.
If your home's exterior is looking and functioning pretty far from its best these days, then you need to give our Atlanta remodeling company a call today. With our exterior services -- which include siding and gutter work -- we'll get your home looking like a million bucks while also ensuring that it enjoys unbeatable protection from Mother Nature.
See What Customers in Atlanta, GA are Saying About Us Today
"I think most of us can agree that a good contractor is hard to find, so a great one is an absolute gem. This time last year we had our kitchen done. Colin did a fantastic job in less time and for less money than anyone else. So this year when our sunroom was separating from the back of the house and the deck was falling down we called him again. Sure enough the price was right in line with what we hoped. Where it wasn't, he worked to get us the highest grade product we could afford. The craftsmanship and professionalism were second to none. While he was working on our sunroom and deck, we discovered FOUR leaks in our upstairs bath. Colin ripped out all the moldy sheetrock, re-plumbed the bathroom and put in special sheetrock to keep it from molding in the future. Again, all within what we hoped to pay. When he came to look at it he didn't like the way the paint turned out and re-mudded and re-painted the whole room. As if that weren't enough…while we were gone this week he came in and surprised us by organizing our GARAGE! FREE!!!! A thank you for prior referrals and current business. Happy to know good, honest people still exist."
"Atlanta had one of the biggest rainfalls in recorded history. As a result of this downpour my neighbor's tree fell on my home and car. Extensive damage was done to both. However, time would prove that the damage done to the structure was a nightmare. The gutters and roof were almost destroyed. Future rains would soak the area and I feared the rained. From Oct 09 til May 10 several contracters came and accessed the damage. However, no repairs were made until Tim Brenner arrived on the scene. Immediately we hit it off. He was kind, warm and very professional. He could sense my frutration with this ongoing issue. He came on a Thursday and the following Tuesday morning his crew arrived and began what I described as a monumental task. They were men of character and professionalism. I knew I was in great hands. Within 8 hrs the roof was completely repaired as well as the sheet rock. Prior to this the walls had begun to turn black from severe water damage. The second day we had a new and functioning gutter system. Our security light had been damaged as well and with one call to Tim this was replaced with a state of the art lighting system. I was so amazed to see this eyesore of a room transformed into a work of beauty. I'm constantly walking to the room to admire the quality of work and going outdoors to stare at the excellent transformation. The second day after the workers left we had a major rain. This was the test. Let me tell u they passed with flying colors. There wasn't a drop of rain. It was outside where it belonged. The room was dry was as the Sahara Desert. The third day the room was painted and finishing touches were added. They went beyond the call of duty. There were minor repains not caused by the storm but they had no problem fixing. I didn't and wouldn't have asked but it was done anyway. I would highly recommend Mr. Brenner services to family, friends and anyone in need of home repairs. Anyone who employs him would be doing themselves a great service!"
"LuAnn and I are extremely pleased with the outstanding work in the recent design and construction of our home kitchen. The process was handled very well from our first meeting with Joe to the last "punch" list completion by Alahandro. The design features are "spot-on" and the outcome reflects demonstrated experience and superb design expertise. The construction was done from ceiling to floor, and cabinet installation with skill and attention to detail with creativity in solving special concerns. Our experience with Sewell Appliances was also very good. We would be pleased to recommend your services and expertise to our friends and to others who may be interested in our experience in working with you. Best regards and thank you."